Virtual events
We are currently planning events for the upcoming recruiting season, visit back for more details. Also be sure to check with your university for additional Visa events.
Virtual events

| | | | |
| --- | --- | --- | --- |
| Money 101: A Crash Course on Credit | Explore the basics of managing money wisely with members of our Financial Education Program | | |
| | Learn about how Visa is fighting fraud and cybercrime everyday with members of our Cybersecurity team | | |
| Hack the Interview Workshop | Demystify the technical interview with one of our seasoned hiring managers at Visa. Gain interviewing tips and leave prepared for your future interviews | | |
| Navigating Corporate in Color | Join members of our Black Executive Council and ViBE ERG (Visa's Black Employee Resource Group) for a thought-provoking discussion on navigating through corporate America as a Black and African American professional | | |
Explore Life At Visa
What's it like to work at Visa and help connect the world through the most advanced digital payment network? Our interns and grads, from engineering to marketing and beyond, can tell you. Read on to learn about their experiences and advice.
Top 10 reasons you'll want to work for Visa
Not satisfied with the status quo? Neither are we. Let's explore new, innovative territory together.
We can't wait to return to campus and meet you in the future. In the meantime, check out and sign up for our virtual events.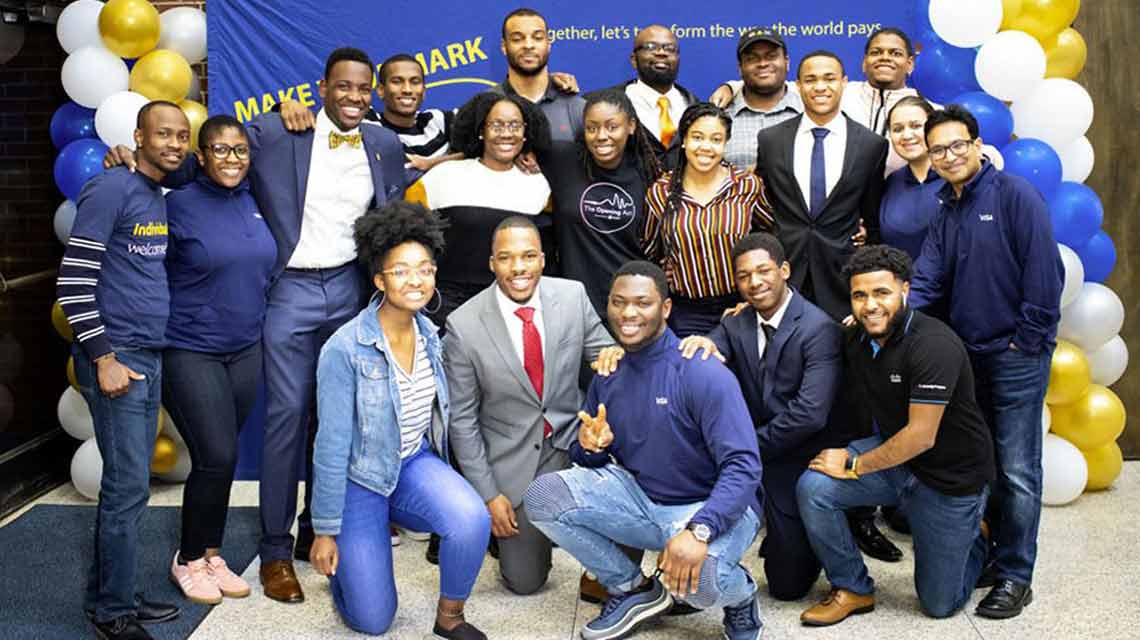 Visa Week at North Carolina A&T State University
Join Visa and you're instantly part of something special. That's because we're on a mission to promote economic growth around the world, drive digital innovation, and do meaningful work that creates financial literacy and increases opportunities for millions of underserved people. Make a difference here and you'll have an impact everywhere. We are also on a journey toward inclusion, diversity and racial justice – learn more about our commitments.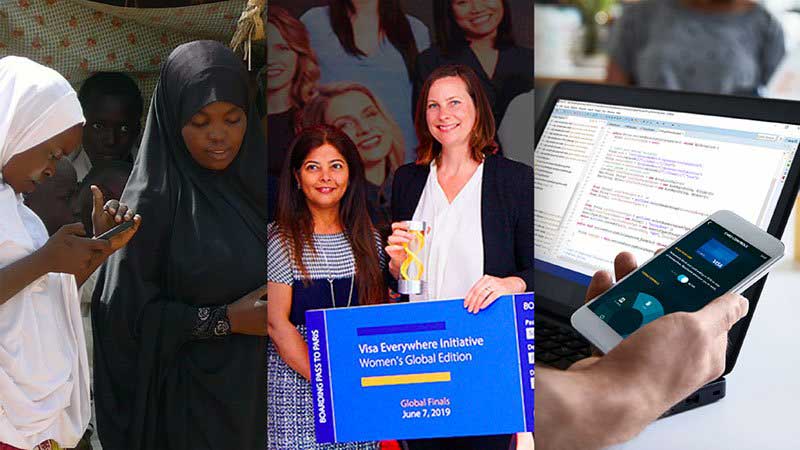 Small and micro businesses
Helping businesses thrive, helps people thrive. The Visa Foundation committed $210 million to support small and micro businesses, and COVID-19 emergency relief programs following the spread of COVID-19.
Visa also co-designed and funded the Inclusive Fintech 50 competition, Visa Everywhere Initiative and Fast Track Program – initiatives that recognize innovative early-stage startups seeking to deliver financial services to 1.7 billion unbanked people.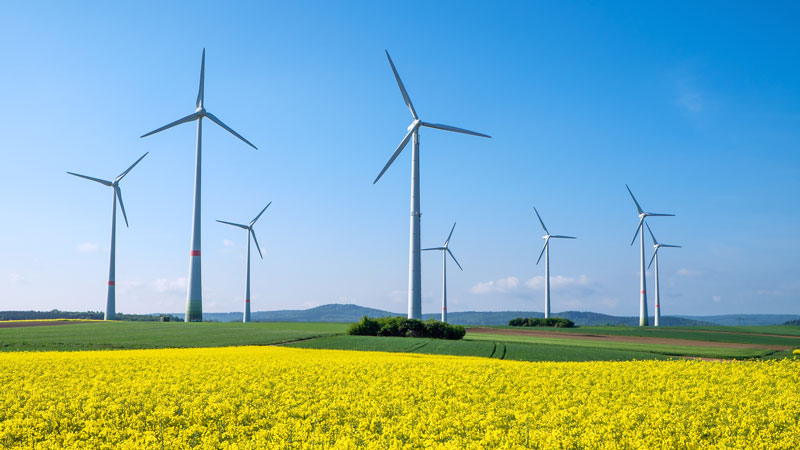 Environmental and social impact
Visa operates responsibly, employs environmental best practices, and is a leader for sustainability and on environmental matters.
We recently met our goal to use 100% renewable electricity by 2020 and approximately 70% of Visa's global square footage is green-certified. We're also inspiring and empowering the sustainable living movement, with efforts including being founding partners to launch Brands for Good as well as Travalyst, a sustainable tourism initiative, the release of a 25-country "Healthy and Sustainable Living Study" and expanding initiatives to help employees live more sustainably at work and at home.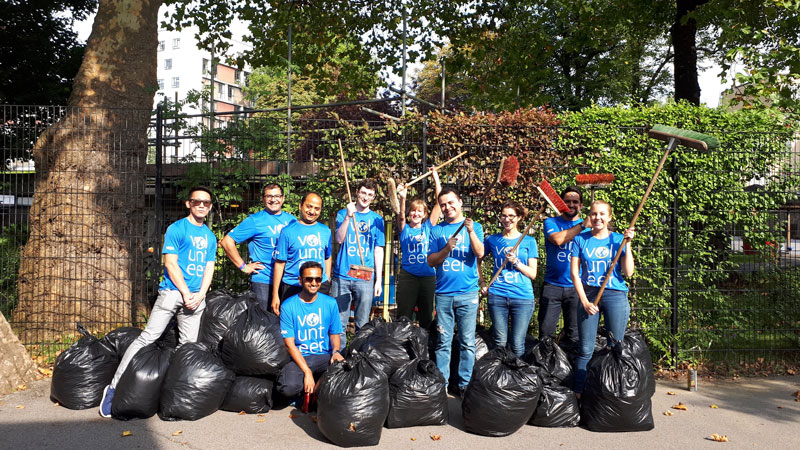 Community
Visa is committed to the well-being of communities in the 200+ countries and territories in which we operate.
In June 2020, through Visa's global Donation Matching program, Visa employees raised over $1.3M for organizations focused on supporting social justice and equality.
In FY20 (as of August), approximately 3,000 Visa employees volunteered almost 26,000 hours, supporting over 500 causes. As part of the "Visa Volunteers Virtually" program in June, over 1,000 employees from 40 countries volunteered more than 3,500 hours.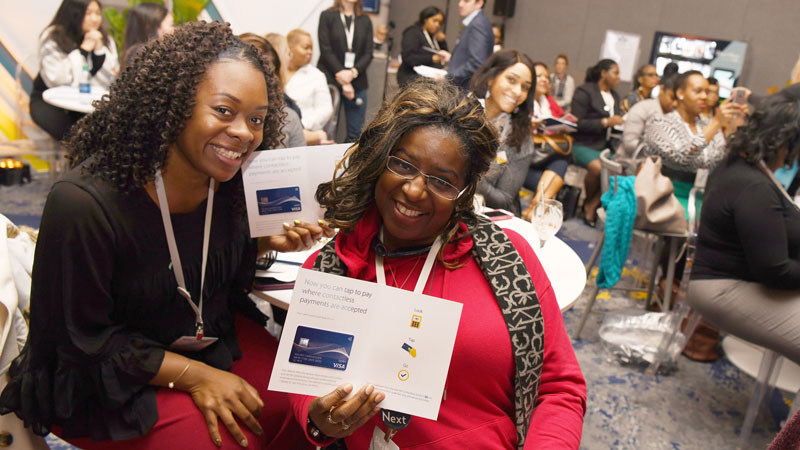 Women's Economic Advancement
As a part of our ongoing commitment to women entrepreneurs, Visa launched a global initiative – She's Next, Empowered by Visa – to support women small business owners as they fund, run and grow their businesses. We also expanded our partnership with IFundWomen, a marketplace for women-owned businesses and the people who want to fund them, to provide $10,000 grants, mentorship and digital training to Black women-owned small businesses in the U.S. The Visa Foundation launched its $200 million Equitable Access Initiative, which will support small business owners, with a focus on women's economic advancement.
Opportunities at Visa
Join a team where you can make a difference in the world, propel your career, and make your mark.